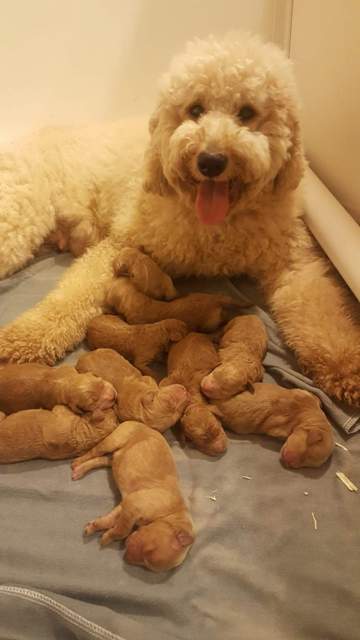 Watch a video of our Goldendoodles

GREAT NEWS!! Emma delivered her litter on January 29th. Puppies are walking about, growing quickly. We are still in the confirmation stage with deposits, and should know soon on the availability. More information and pictures will be coming out on Facebook, soon. Snickers' puppies have all found their forever homes. We wish them all the best! Please visit our Facebook page "Ryan's Goldens and Doodles" for the latest pictures, and give us a "Like."
Ryan's Goldendoodles will be gearing up for an exciting 2018, as we will be introducing a new line of Goldendoodles, with new colors and markings. We are certain these puppies will be highly sought after and recommend early deposits, as these will be very adorable, unique Goldendoodles. We hope to have another litter of F1b's in late winter, 2017/2018. Contact us to schedule a visit so you may meet us and our wonderful family pets. We are located in central Rhode Island, 7 miles from Interstate 95
Remember, John & Terri are extremely busy taking care of puppies. If you request updates or status of the reservations via email or text, and they do not respond within 24 hours, please feel free to call them by phone at 401-714-2119. They are available by telephone between the hours of 6pm and 10pm, seven days a week, 365 days a year. This is the fastest way of reaching the Ryan's and receiving current information.
Deposit reservations are only $200 and can be made on line. We accept major credit cards and you may finance your purchase for 6 months with no payments or interest through PayPal, with approved credit. All our puppies come with a microchip implanted to readily identify your dog if you are ever separated from it.
ENJOY SOME PICTURES BELOW FROM PRIOR LITTERS
We accept Cash, Visa, Mastercard, Discover and American Express, or debit cards.